Voices of Hope: Summer Youth Program
Voices of Hope Summer Youth offers all students a positive and creative space to grow and explore. Our goal is to foster community engagement with the arts and philanthropy. Nowhere else will students work on a show that has the impact that our show does: Working to rid the world of cancer.
Arts Education...Exercise for your brain.
A growing body of research supports the fact that arts education not only makes students more creative thinkers, but it also has a positive impact on overall academic achievement. Arts education helps students build confidence, social and emotional intelligence and complex problem-solving skills, all of which prepare them for the challenges of the 21st century workplace.
Our program reinforces teamwork and personal best performance. It is a way of preserving, interpreting, understanding and challenging a culture. Our program builds skills in that vital area for a child's well being.
I hope that your child can join us for a well rounded summer of theater, music, dance and many other skills along with just having fun while helping others.
2023 Program Details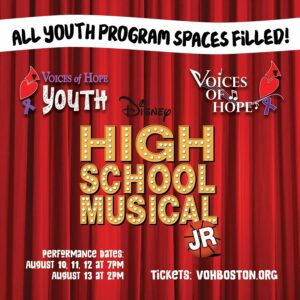 Voices of Hope is delighted to announce our SOLD OUT summer program featuring the production, High School Musical Jr.!
Our program and performances are currently slated to be held in-person.
Program Details:
Days/Times: Monday | Tuesday | Thursday  9:30am – 3:00pm
*Dropoff between 9 – 9:30 and pickup between 3 – 3:30 (if you need assistance on either end, please leave a note in the comment box at the end of the form)
*We will offer optional Wednesday workshops – separate form to follow in June
*Please note program hours will likely be extended August 7th – 10th
Audition Dates:
Sunday, June 25th 12 – 4pm and Monday, June 26th 7 – 9pm (choose one)
Callback Date:
Wednesday, June 28th 7 – 10pm
Program Dates:
July 10th – August 13th
Performance Dates:
Thursday August 10th – Sunday August 13th (Thurs – Sat at 7pm, Sun at 2pm)
Location:
The Nest (23 Clark Road, Andover MA)
Eligible students:  Students grade 6 – 12 (entering 6th and graduating 12th in 2023)
Vaccination requirements: Participants (who are medically eligible for vaccination) should be vaccinated for Covid-19. If your student has a medical exemption, please contact diane.meehan@gmail.com.
Production Team:
Artistic Director: Jon DiPrima
Musical Director: Ryan Solero
Choreographer: Belinda Smith
Stage Manager/COVID Compliance Officer: Karen Rogers
Producer: Diane Meehan
Executive Artistic Director: Dana Siegal
Founder/President: Greg Chastain
Please complete the following Registration Form for your child:SOLD OUT FOR 2023!!
For safety reasons, we will be limiting the number of students in this program. In order to secure your student(s) enrollment,
please be sure to submit a full tuition payment within one week of submitting your registration form.
(Fees explained below – if this presents a concern for you, please do not hesitate to reach out to us.)Tuition payments may be paid by
check or Venmo
(@vohboston) upon submission of your initial registration form.Checks can be made payable to Voices of Hope and mailed to:
Voices of Hope
171 Park Street
Stoneham, MA 02180After we receive your payment, you will receive an email confirming your enrollment. If you do not receive this confirmation email within 7 business days, please check your spam folder and/or email Diane Meehan (
diane.meehan@gmail.com
).