NSMT Announces Benefit Production: Children of Eden
December 15, 2016
Contact: Missy Padoll Phone: 617-750-0729 Email: mpadoll@yahoo.com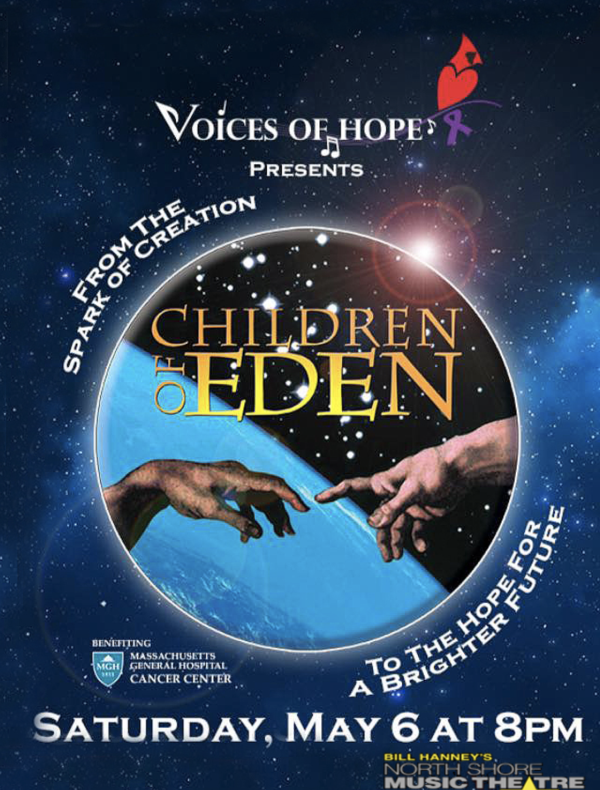 Boston, Mass. (December 15, 2016) – Allow yourself to be transported to the beginning of creation when Voices of Hope presents the beloved musical for all ages, Children of Eden at Bill Hanney's North Shore Music Theater (NSMT) in Beverly, MA on Saturday, May 6, 2017.
Children of Eden is an inspirational, joy-filled, and hopeful musical that is freely based on the story of Genesis. It's a heartfelt and often humorous examination of the age-old conflict between parents and children. The family-friendly production was created by musical theater greats Stephen Schwartz (Wicked, Pippin, Godspell) and John Caird (Les Miserables, Nicholas Nickleby). The story examines centuries-old, unresolved "family business", using Biblical characters such as Adam, Eve, and Noah, and ultimately delivers a bittersweet but inspiring message—that "the hardest part of love . . . is letting go."
Through engaging music, dance, and story, Children of Eden will leave the audience feeling the connection to family, love, faith, and hope—themes that resonate deeply with this group of local performers who are dedicated to raising funds for cancer research. Voices of Hope is an all-volunteer non-profit organization comprised of an amazingly talented and dedicated member base from across the Greater Boston community who have performed several stellar productions at NSMT including: Godspell, Once on This Island, Jesus Christ Super Star, and Fiddler on the Roof. Proceeds from this exclusive performance will be donated to the Henri and Belinda Termeer Center for Targeted Therapies at the Mass General Cancer Center.
Tickets are already available and make a perfect gift for the Holidays: $50 Inner | $40 Upper | $75 Inner w/post-show reception. Buy yours today by contacting the Theatre Box Office by phone at 978-232-7200, online at www.nsmt.org , or in person at 62 Dunham Road in Beverly, MA. For more information about Voices of Hope, visit www.voicesofhopeboston.org.
About Voices of Hope
Voices of Hope is a 501(c)(3) organization dedicated to raising funds for cancer research through song and dance. Conceived by local performer, Greg Chastain, who lost his mother in 2009 after a long battle with pancreatic cancer, Voices of Hope is comprised of local performers whose lives have all been changed by cancer. Honored by the Massachusetts General Hospital Cancer Center as part of the one hundred in 2011 for their efforts in the fight against cancer, Voices of Hope has donated more than $387,000 for cancer research since 2009.