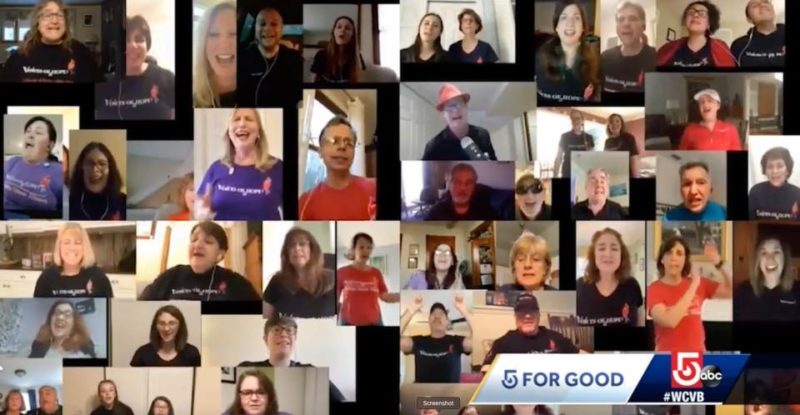 Voices of Hope Featured on WCVB's "5 For Good"
April 10, 2020
LAWRENCE, Mass. —
Voices of Hope is an all-volunteer performing arts group based in Lawrence that has been raising money to fight cancer for 11 years.
They recently put together virtual cabaret show. Each member of the group recording their portion from home because of COVID 19.
Founder Greg Chastain said so many members contributed that the final video turned out to be three hours long.
"We had a watch party," Chastain said. "(We were) Facebook chatting while it was going on."
He said the members of Voices of Hope have been doing their best to support one another through the coronavirus crisis. Typically, they're together all the time. Members rehearse two to three times a week preparing for performances.
Putting on musical productions is the group's main vehicle for fundraising.
Before the coronavirus outbreak, they were rehearsing for an April production of Anything Goes.
"This was our first big tap show," Chastain said. "All of us were learning how to tap."
That production was postponed until October. Meantime, virtual performances, like the online cabaret, are being shared to spread some joy.
Doctors and nurses at Massachusetts General Hospital are showing the video to patients.
"Cancer hasn't taken a holiday through this so neither will we," Chastain said. "They're showing the cabaret to the patients as they're sitting there with their treatments."
Social distancing means patients are otherwise enduring those long treatments alone.
Chastain said the isolation caused by the coronavirus crisis has been difficult for the Voices of Hope members too, but helping each other through the hardship has made their bond even stronger.
"It's really brought us much closer than I think we ever have been," he said. "That's the part that I'm taking away from it."
Since 2009, Voice of Hope has raised more than $780,000 for cancer research. Coronavirus has made fundraising much more difficult, but Chastain said they hope to hit the million-dollar mark by 2021.
Find out about supporting their efforts here.
Media Contact