Voices of Hope Holiday Caroling Season 2024!
November through December 2024!
Voices of Hope will be out and about all around the Merrimack Valley, North Shore and Boston this holiday season to help spread joy, hope and help get people into that holiday spirit!!!  We hope you can join us as we perform many of the classics you know and love.  Happy Holidays!!!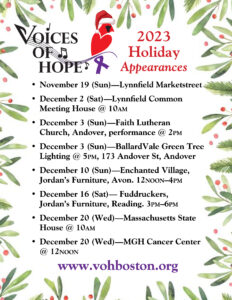 Notice: Undefined variable: gallery in /www/wp-content/themes/voh2019/single-voh_events.php on line 93