How To Help
VOH depends on your generous donations to provide support to cancer research and to help defray the cost of our musical productions and events.  Donations of any size make a difference.
Personal Donations honor the memory or celebrate the recovery of a loved one.
Business Ads in programs, Corporate Sponsorships and Grants provide critical support for our events while promoting your business.
Retain our group to provide musical entertainment for your function, such as corporate and holiday events and more.
You can help by participating in our Annual Golf Tournament or make an "In-Kind" donation to our silent-auctions at our events.
There are so many wonderful opportunities help us on our "March to a Million." Please CONTACT us to find out how!
Become A Corporate Sponsor
Voices of Hope has many opportunities for your company to become a Corporate Sponsor.  Our Corporate Sponsors provide critical support for our events while promoting your business.  We have a high media profile in the Boston community which allows your firm the recognition they deserve for their support.  Please see the attached Corporate Sponsorship Form for further details. Please CONTACT us if you are interested or have any questions.
Purchase a MA License Plate or a Personalized Brick!
The Conquer Cancer Coalition has partnered with Voices of Hope in our mission as we both share the same goals of eliminating cancer.  If you purchase a Conquer Cancer MA License Plate or purchase a brick at their beautiful Garden of Hope at City Hall Plaza in Boston, Conquer Cancer will donate a portion of your purchase back to Voices of Hope.  They are an incredible organization and an incredible member of the cancer community.
Conquer Cancer MA LICENSE PLATE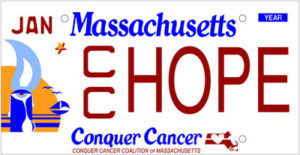 Everyday thousand of Massachusetts drivers hit the road with Conquer Cancer License Plates on their cars.  Without doing anything extra in your day you are helping to support free programs and important resources across the state including Voices of Hope as the CCC is a sponsor of Voices of Hope.  You can purchase theConquer Cancer Specialty Plate at all full service RMV's locations and on-line. If you drive a car in Massachusetts why not make a difference.
GARDEN OF HOPE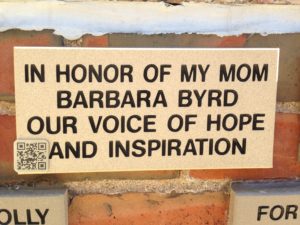 Located in the heart of Boston's City Hall Plaza, the Garden of Hope is a beautiful spot filled with unique sculptures, a wooden Gazebo, a wishing well and wonderful country style garden with flowers and grasses.  But what makes this garden grow are the over 1500 personalized and engraved bricks and plaques on the wall that tell the stories of this fight. You can purchase a brick for the Conquer Cancer Coalition's Garden of Hope at City Hall Plaza in Boston and ask that a portion of the monies be donated to Voices of Hope. It is a great way to honor a loved one or a friend.