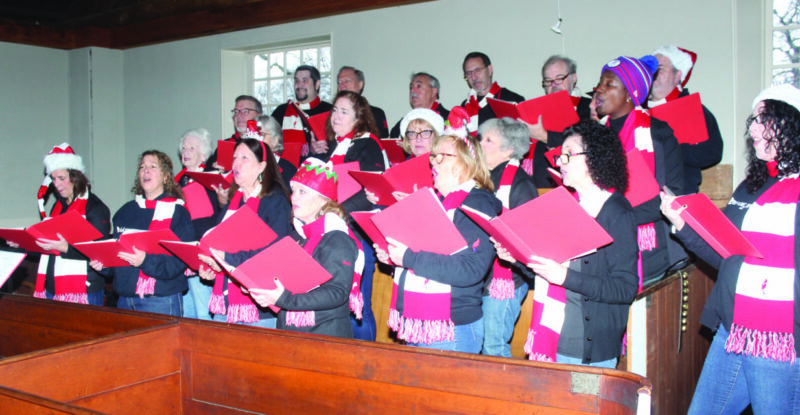 Country Store celebrates 'a nod to simpler times!
December 7, 2022
VOICES OF HOPE sang "Rudolph the Red-Nosed Reindeer" and other classic holiday tunes during Historic Lynnfield, Inc.'s Country Store at the Meeting House on Dec. 7. (Dan Tomasello Photo)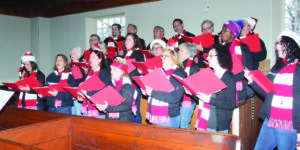 By DAN TOMASELLO
LYNNFIELD — The tradition continues.
Hundreds of residents came together to kick off the holiday season in style when the Meeting House was transformed into Historic Lynnfield, Inc.'s Country Store on Dec. 3. A large number of residents stood in line waiting for the Country Store to open its doors at 9 a.m., and business was booming for most of the day.
Longtime Country Store Chair Karen Nascembeni, who is Historic Lynnfield, Inc.'s vice president, oversaw the incredibly popular town event once again. The fundraiser's proceeds will be used to help maintain the Meeting House as well as historic artifacts located in the Pope-Richard Lynnfield Historical Center.
"It was another successful year," said Nascembeni. "I want to thank the hundreds of people who came from near and far to support us. It never ceases to amaze me that we get better at this every year. There is so much joy that goes into the Country Store, and it takes a village to put this event together. It's a labor of love. Bravo to our team."
Historic Lynnfield, Inc. President Nan Hockenbury noted that this year's Country Store was the first fundraiser she has been a part of in seven years because she has been focused on her Lowell-based art studio, Loading Dock Gallery.
"It's so nice being part of this tradition again," said Hockenbury. "The Country Store celebrates the joy and excitement of the holiday season. It was also great being with friends, and wishing everybody a happy holiday season. It's great that we are keeping the tradition going after it started years ago. It has been able to keep going thanks to the hard work by the Nascembeni and Richard family."
The Voices of Hope choral group kicked off the Country Store by performing holiday carols such as "Rudolph the Red-Nosed Reindeer" and "Santa Claus is Coming to Town" upstairs. Voices of Hope Executive Artistic Director Dana Siegal recalled that the choral group, which raises funds for cancer research, has performed at North Shore Music Theatre for a number of years. She noted that the group is friends with Nascembeni, who is NSMT's general manager, and was friends with her late husband, Steven Richard. Steven, who passed away from COVID in March 2020, also served as Voices of Hope's photographer.
"It's glorious to be back," said Siegal. "Tradition is the most important part of the season. We are here to celebrate Steven's memory and Karen's resilience. They are inspirations to us. It's wonderful that we are able to celebrate the music of the season safely."
Nascembeni was blown away by Voices of Hope's performance.
"This was one of Voices of Hope's best performances," said Nascembeni. "They had so much energy and passion for us. They were wonderful."
House Minority Brad Jones (R-North Reading) attended the Country Store with his wife, Linda, to support the town tradition and their close friend Nascembeni.
"The Country Store is quintessential New England and quintessential Lynnfield," said Jones. "It brings old and young people together. You love seeing the holidays through children's eyes, and you can see that at the Country Store. It's a great way for Lynnfield to kick off the holiday season."
The Country Store featured a number of returning vendors this year. John Nunziato and Joe Miglio ran the incredibly popular Vermont cheddar cheese table once again.
"We ran out of cheese early," Nunziato.
Historic Lynnfield, Inc. Director Lauri Priestley assisted her daughter Ariel and their close friend Linda Fair's company, Bee Kind Designs, sell wreaths.
"It's absolutely wonderful," said Lauri. "It's a great event for the town, and it feels great bringing it back."
Ariel concurred with her mom's sentiment.
"We want to keep this tradition going," said Ariel. "It's great for families and the community."
Colby Properties sponsored Santa's North Pole Fishing Hole once again, which gave children the opportunity to go fishing for holiday gifts. Local Realtor Karen Colby ran the North Pole Fishing Hole with the help of Lynnfield High School seniors Celia Carbone, Geena Gioioso and Angelo DeLuca.
"It was very successful," said Carbone. "There were a lot of little kids who came, and they were very excited to fish out their presents. It was great seeing them happy, and it was a lot of fun helping them."
Gioioso agreed.
"I come to the Country Store every year, and I used to love the North Pole Fishing Hole when I was a little girl," said Gioioso. "It was a lot of fun helping the little kids this year."
DeLuca had a blast volunteering at his first Country Store.
"It was great volunteering this year," said DeLuca. "It was a lot of fun. It gets you into the Christmas spirit."
Lynnfield for Love members Wendy Dixon, Darlene Kumar, Natasha Shah and Sadaf Weisenfeld sold different apparel and decorative ornaments at the event.
"Having Lynnfield for Love here makes it even more of a community event," said Nascembeni. "There is a lot of love in this already, but they were selling products that are reminders to be kind and love people in the community. We need more of that in this town."
The Village Home & Garden Club sold decorative wreaths and swags once again. The Friends of the Lynnfield Library also sold Christmas books at the library. Kristen Nickerson and Jessica DiFillippo, who are Nascembeni's nieces, ran an ornament decorating station for children.
Similar to previous years, the Country Store sold a variety of delicious food. Steven's sister, Doreen DiFillippo, and his cousin, Don Martin, served ham and bean dinners, which were cooked at North Shore Music Theatre's Backstage Bistro. DiFillippo used her late mother Edie's recipe. Historic Lynnfield, Inc. Treasurer Sharon Marrama, Director Karen Hathaway and volunteer Susan Canty ran the baked goods table.
Country Store attendees were also able to buy slices of pizza that were donated by Bertucci's and Centre Court Pizzeria and Grill. Lynnfield Baking Company owner Christina Hayman also sold delicious cookies at the event for the first time.
"The Country Store is a fabulous community event, and I loved being a part of it," said Hayman. "There were so many great vendors, and Voices of Hope did a fantastic job singing."
There were a variety of new vendors who appeared at this year's Country Store, including former resident Melanie Dolbeare's pottery company Mad Mud Design. She sold ornaments, dishes, mugs and more with her daughters Jessica and Mackenzie.
Busy Fingers owner Susan Michalski, who is the mother of Historic Lynnfield, Inc. Director John Michalski, sold aprons, blankets and gift baskets at the Country Store. All About Machine Embroidery sold home décor.
"I was really excited about all of the new vendors this year," said Nascembeni. "They brought a different element to the Country Store. A lot of the items that were sold were handmade. We always try to sell handmade items because it's a nod to simpler times. There was a lot of great stuff that was sold."
Nascembeni said one of the best parts of the Country Store was seeing different generations attending, having fun and volunteering.
"I loved seeing all of the different generations come together," said Nascembeni. "It was great."
Nascembeni said Steven and her late in-laws, Edie and Earl Richard, would be incredibly proud that Historic Lynnfield, Inc. is carrying on the Country Store tradition.
"Steven, Edie and Earl would be so proud that we are continuing this tradition," said Nascembeni. "They were involved in the Country Store for decades, and they would be happy that we are continuing this tradition that is beloved by the people in this town and beyond. It's not just a Lynnfield tradition. People from all over the North Shore come to the Country Store."
Media Contact