One Year. 1,000 Miles. $13,000 Dollars
Andover Resident Exceeds Fundraising Goal for Cancer Research
November 26, 2017
Contact: Missy Padoll 617-750-0729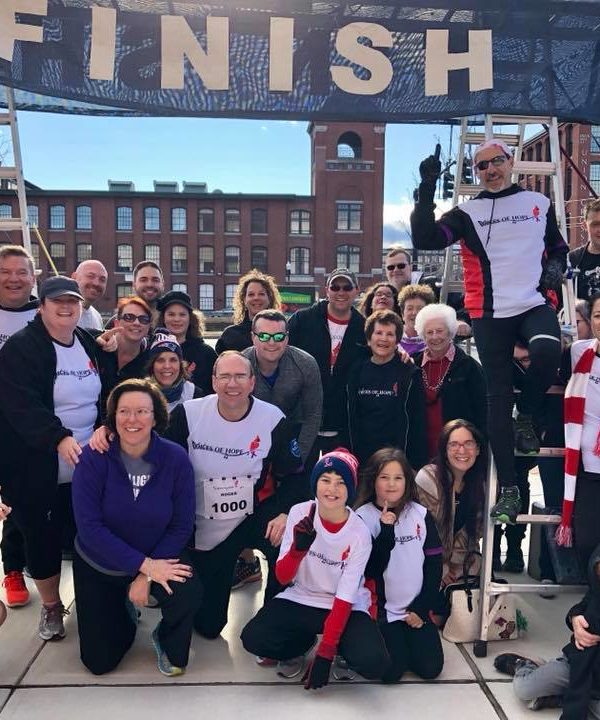 Lawrence, MA (November 26, 2017) – On Sunday, November 26th, Andover resident Roger Desjardins will run one mile to complete his goal of 1,000 miles in a single year. In January, the long-time member of Voices of Hope, a local non-profit organization dedicated to raising funds for cancer research, announced his intention to run 1,000 miles as an individual fundraising effort. He asked friends, family, and colleagues to donate, and had quickly received pledges of more than $12/mile. His donation through Voices of Hope will benefit the Henri and Belinda Termeer Center for Targeted Therapies at the Mass General Cancer Center.
Roger Desjardins serves as president of Marceau Construction Corp., a general contractor business specializing in commercial construction, including more than 100 McDonald's. In his free time, he not only enjoys running, but is also a talented singer and performer. His son, Christopher Desjardins is the Vocal Music Director at Andover High School and also serves as music director for Voices of Hope. This is how Roger first became associated with the organization, and soon found his own unique way to support their vital mission.
"With every step of Roger's incredible 1,000 mile achievement he honored the strength and resilience of individuals meeting the tremendous challenges cancer brings," said Greg Chastain, Voices of Hope Founder & President. "We are grateful for this significant donation, and in awe of his dedicated effort."
Established in 2009 as a way to honor loved ones impacted by cancer, Voices of Hope has achieved a great level of success in raising funds through theatrical and musical performances, large and small, in venues such as Symphony Hall, North Shore Music Theatre, TD Garden, Gillette Stadium, the Hatch Shell, and Fenway Park. In recent years, the organization has expanded their efforts to include an annual golf tournament, tennis tournament, and team participation in the DMSE Sports Classic held at Merrimack College. Several of the organization's 200+ members like Roger, have voluntarily dedicated their time to these alternate fundraising activities to attract additional donors who support their journey. It is through these combined efforts that Voices of Hope has connected with thousands of people who are moved by the power and passion of these ordinary people on an extraordinary mission and have extended their financial support to this ever-growing community of hope for a cure.
About Voices of Hope
Voices of Hope is a 501(c)(3) organization dedicated to raising funds for cancer research through song and dance. Honored by the Massachusetts General Hospital Cancer Center as part of the one hundred in 2011 for their efforts in the fight against cancer, Voices of Hope has donated more than $500,000 for cancer research since 2009. Visit www.voicesofhopeboston.org to learn more. Follow us @VOHorg; Like us on FB.