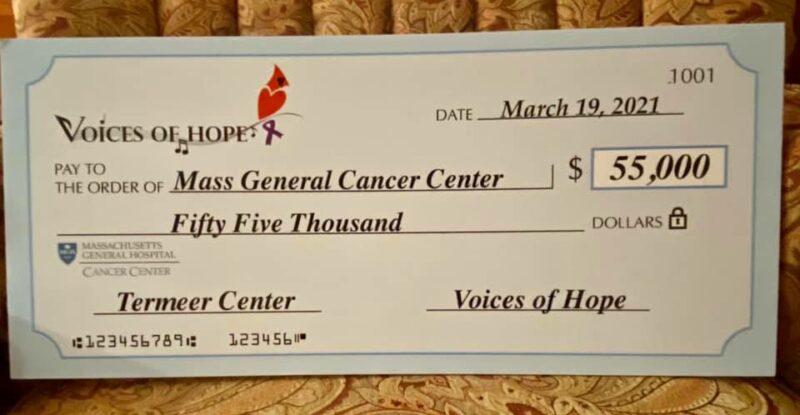 Voices of Hope Donates $55K to MGH for 2020!
March 20, 2021
 Voices of Hope Continues March to a Million Through Pandemic
$55,000 donation made to MGH Cancer Center for 2020
(Lawrence, MA March 19, 2021) On Friday, March 19, Voices of Hope (VOH), a local volunteer organization dedicated to raising funds for cancer research through theatrical performance, gathered (virtually) for their annual member meeting to present a check for $55,000 to the Henri and Belinda Termeer Center for Targeted Therapies at Massachusetts General Hospital Cancer Center. This is VOH's ninth annual donation to the Termeer Center, reaching a milestone of just over $700,000. Dedicated to making cancer history one song at a time, VOH has donated a total of $836,000 to cancer research since 2009, continuing its march of reaching one million dollars for cancer research.
The funding that Voices of Hope provides is instrumental in our ability to advance our work and spearhead new and innovative treatments for cancer. With 20 FDA-approved drugs and counting, the partnership between the Termeer Center and Voices of Hope is making a real difference in the lives of our patients, even in a year full of so many challenges.
-Dejan Juric, MD, Director, Termeer Center for Targeted Therapies
Patients in the Termeer Center are matched with a small, but dynamic clinical team, whose expertise supports both advances in research and excellence in supportive patient care. For several years now, Voices of Hope has provided a major source of funding to the Center, second only to the Termeer Family.
With live performances halted due to COVID-19 in 2020, Voices of Hope members were determined to find new ways to support the Termeer Center. VOH Founder and President Greg Chastain rallied his members to submit individual video recordings of songs which were then produced as a series of "virtual cabarets" which were privately shared with patients and their caregivers receiving treatment at the Termeer Center, as well the dedicated frontline staff who never wavered in their delivery of essential care.
Voices of Hope has been a constant source of inspiration for the Termeer team, especially during the pandemic. Their virtual performances, meal donations and messages of support have provided positivity and humor that sustained us through an incredibly difficult year. We are grateful for their continued belief in our work and our team.
-Casandra McIntyre, RN, Nurse Director, Termeer Center for Targeted Therapies
Several significant efforts contributed to Voices of Hope's donation for 2020. First, with more people than ever spending time online and in social media, many VOH members launched individual "Birthday Fundraisers" with great success. One member rode 1500 miles on his bike and raised more than $13,000. And despite cancelling the spring musical "Anything Goes" and the annual Fall Gala, VOH was grateful to receive donations from many supporters who would normally attend or sponsor these performances.
Second, with conditions somewhat improved, VOH held their 10th Annual Barbara Byrd Memorial Golf Classic in early September, attracting more participants than ever before in a safe and fun outdoor event. The group is planning an even bigger event July 22, 2021. You can find details at www.vohgolf.com
Third, VOH secured a grant which allowed them to reconfigure their rehearsal studio (the Nest) with individual COVID-safe enclosures allowing a small number of members to safely record starting in the early fall. As a result, Voices of Hope recorded and streamed their first "Old Time Radio" Show, Arsenic and Old Lace in November, with the guidance and support of Boston area radio talents Jordan Rich and Candy O'Terry.
They also used their studio along with outdoor and home recordings to create and stream a Holiday Cabaret in December with guest appearances including local and national celebrities such as the beloved "Scrooge" David Coffee and Grammy award-winning Broadway performer Sean Allan Krill.
"We are so grateful to all those who have joined us on this journey–" said Greg Chastain, "to our members who volunteer their time and talent to the mission, and our donors, sponsors and supporters who have stood by us. Cancer didn't stop for COVID and neither did we."
Voices of Hope is already working on ways to continue their mission in 2021, so stay tuned.
About Voices of Hope
Voices of Hope (VOH) is a 501(c)(3) non-profit organization with more than 150 members who share a passion for the performing arts and a desire to join the fight against cancer by raising awareness and funds for cancer research. Bringing such memorable shows as Titanic, Fiddler on the Roof, Jesus Christ Superstar, and Godspell to the stage since 2009, sell-out audiences have praised Voices of Hope for the quality of their productions and impact on the local cancer community. More information—including performance photos, videos, and upcoming events—is available at www.vohboston.org.
Media Contact